Narcis
Elias Elhardt
Serbia / 2019 / 18'
DOCUMENTARY
ALP&ISM
In the midst of Kosovo, an area that's been haunted by war and ethnic conflicts, Elias Elhardt discovers the small ski resort Brezovica. With several abandoned hotels and lifts, time has seemingly stopped here since Yugoslavia's breakdown over 20 years ago. Snowboard enthusiast Hamdi is one of locals, that now wants to breathe new life into this special place. He guides Elias through this forgotten world and reflects on the question, how a future can be built if the past still weighs so heavily. 
Director
Elias Elhardt
Elias Elhardt is a German snowboarder and filmmaker famous for his creative and artistic approach to this discipline. A creator of innovative videos and short films, his project Contraddiction was nominated "Best of the Year" on Vimeo. In his work he explores the power of winter sports as a unifying instrument in communities damaged by ethnic divisions and conflict.
Gallery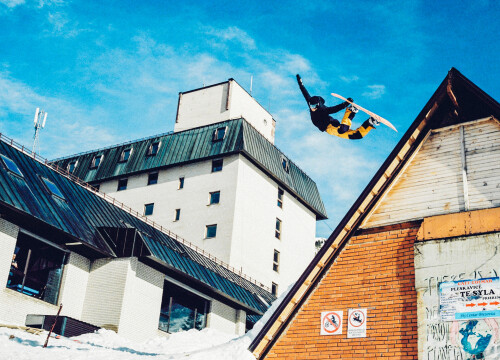 3 Pictures
Language: Serbian, English
Subtitles: Italian
Projections and tickets
Narcis is part of this program:
Seth Gillis

Canada / 2019 / 17'

Elias Elhardt

Serbia / 2019 / 18'

Robin Munshaw

Canada / 2019 / 41'
Online
Not available at the moment
Trento Film Festival suggests you also...
Michael Dillon
(New Zealand/Australia, 2019)

If you're interested in:

ALP&ISM

Reinhold Messner
(Italy, 2019)

If you're interested in:

Isaac Marrero-Guillamon
(United Kingdom, 2018)

If you're interested in:

and