Sing me a song
Thomas Balmès
France, Germany, Switzerland / 2019 / 99'
DOCUMENTARY
COMPETITION
Young Peyangki lives and studies in a picturesque monastery deep in the mountains of Bhutan. A few years have passed since the king allowed TV and internet into the country, and now the structured daily rituals of candle lighting and recitation of prayers compete with the powerful lure of smart phones. Privately, Peyangki is passionate about love songs and falls in love on WeChat with a young singer from the city of Thimphu. Disinterested in study and often reprimanded by his masters, he sells medicinal mushrooms to make enough money to leave the monastery in search of "the one he dreams of night and day". Peyangki trades in his robes for street clothes, but will he succumb to romance and the temptations of the city or return to his pious life in the monastery?
Director
Thomas Balmès
Balmès is an independent documentary director and producer. He brings us to people, places and situations of contrast which reveal our society from different and completely new angles: the Bosnia war seen from the side of Masai warriors, the mad cow crisis as seen from the Indian perspective, a Papuan tribe being converted to Christianity, childhood seen from all around the planet, questioning what connects us all as human beings. With Happiness, his previous documentary shot in Buthan, he won the Jury Prize at the Trento Film Festival 2014.
Gallery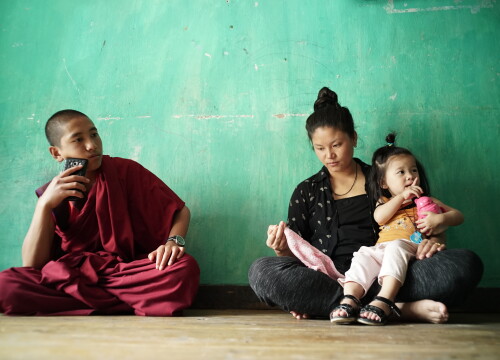 4 Pictures
Language: Bhutani
Subtitles: Italian
Projections and tickets
Sing Me a Song is part of this program:
Ekin Koca

France / 2019 / 7'

Thomas Balmès

France, Germany, Switzerland / 2019 / 99'
Online
Not available at the moment
Trento Film Festival suggests you also...
Damiano Giacomelli, Lorenzo Raponi
(Italy, 2019)

If you're interested in:

and

Monne Lindström
(Sweden, 2019)

If you're interested in:

CONCORSO

Christophe Galleron
(France, 2019)

If you're interested in:

CONCORSO